The Brimley Volleyball Program is hosting a "Volley Kid" Skills Day Camp for youth entering Grades 4th - 6th on Friday, June 30th from 10am - 4pm at the Karl Parker Memorial Gymnasium in Brimley Schools. Register early to pay an early registration fee of $20 per youth. Late registration or same day drop in's will be $30 each. Youth will have the opportunity to be introduced to the game, participate in skill building, drills, and even play a scrimmage at the end of the day! Lunch will also be served. If you have any questions, you can contact Coach LeBlanc at
cmleblanc@baymills.org
or message on Facebook. To register early click the link below! Online Registration Form:
https://forms.gle/2PngoKsftqUsZkkK7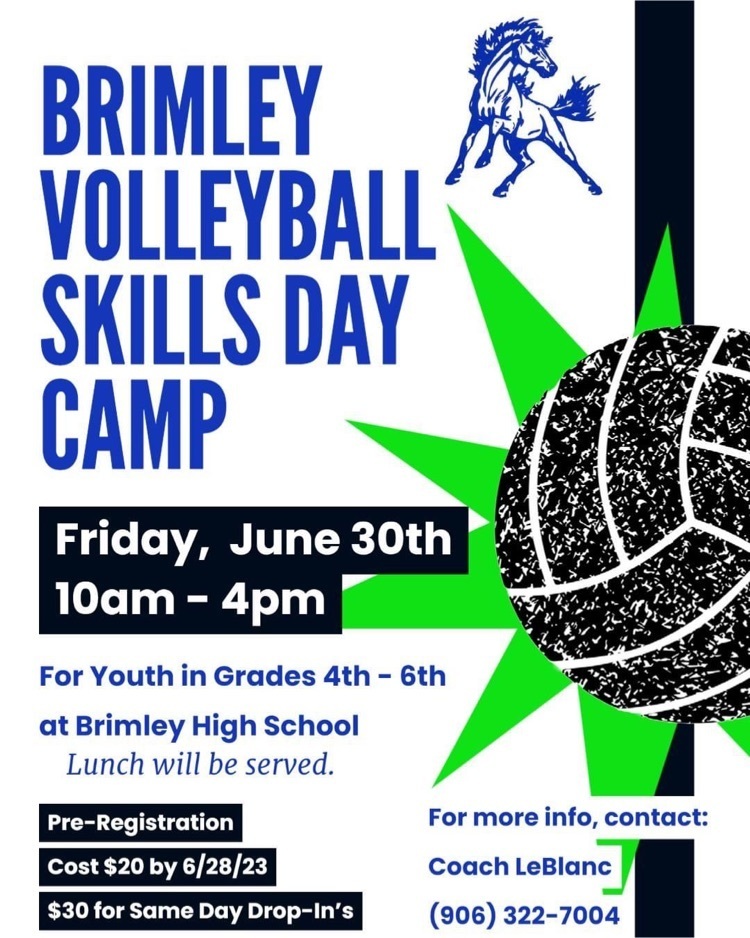 Hello MS/HS students and families. We have a number of clothing articles and other items that were pulled from lockers. If any belong to you, please pick them up by Wednesday, June 14th. After that date, the items will be donated to our Tack Room and other organizations.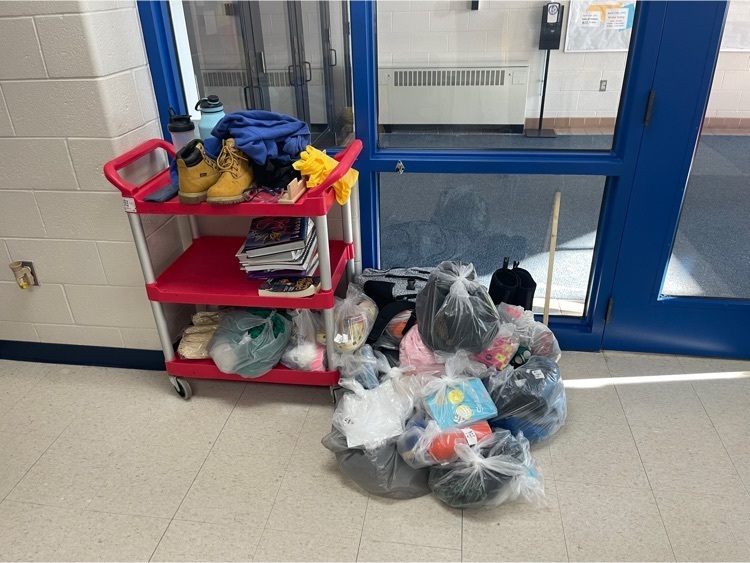 Last Friday, Mrs Osborne's 8th grade life sciences class held a chili cook-off! Students got in groups in 4 or 5, and prepared their best dish. Mr. Bathey, Mr Beaune, and Mr. Suggitt we're this class's judges. Congrats to winners and thanks for all the excellent chili!
Hello Families, Last chance to sign up for Middle and High School Summer School Classes. Please contact our office at 906 248 3218.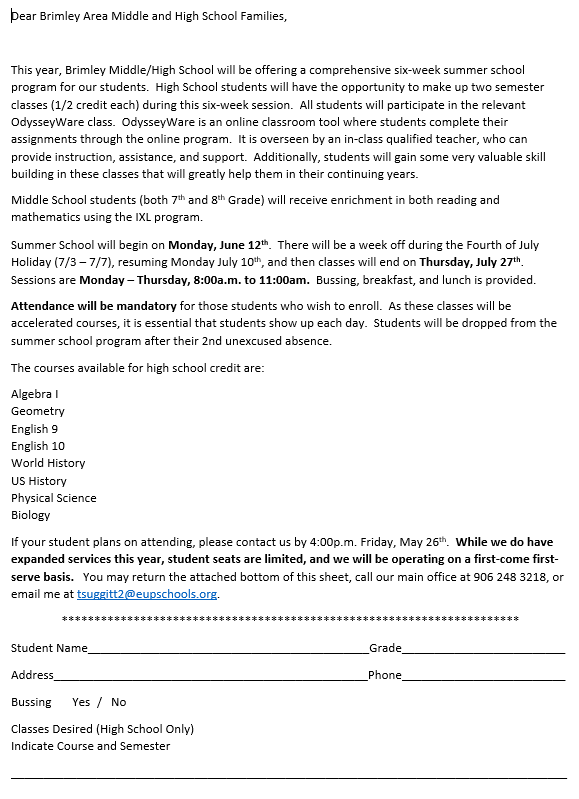 🔥BREAKING NEWS 🔥 Grace hill has signed her NLI to become a Central Michigan University athlete in Track and Field. We believe Grace is only the second athlete in Brimley history to sign with a Division 1 school. Congratulations Grace! 🔥FIRE UP CHIPS🔥 Pictured is Grace along with her coaches Julia Hall and Joyel Hyvarinen, as well as her parents, Beth and Brian Hill.
2022-23 Yearbooks For Sale $38 each For sale in both the High School and Elementary Offices (or contact Mrs. Osborne) Limited quantity - Get yours today! 2021-22 Yearbooks for Sale $10 each For Sale in High School Office
🔥🔥ATTENTION 🔥🔥 Coach Joyel Hyvarinen and the BHS Girls Track Team are the 2023 EUP Conference Champions! This is Coach Hyvarinen's 9th Conference Championship! Congratulations Coach and Team! Good Luck at U.P. Finals on June 3rd!
🚨BREAKING NEWS🚨 BHS has been selected to host BOTH Volleyball AND Girls Basketball MHSAA REGIONALS in 23-24!!!
CONGRATULATIONS on great seasons to our Middle School Boys and Girls track teams!! Our boys and coach Walter DeGruyter finished in second place. Our girls and coach Sarah Smart were crowned champions of the EUP Conference for the third straight year!!!! Great job!!!!! Go blue!!! 🏃‍♀️🏃🏻
🚨🚨🚨 SPRING ATHLETIC BANQUET DATE 🚨🚨🚨 Our Spring Athletic Banquet will be held on Monday June 5th at 6:00pm in the BHS Cafeteria. This is changed from our previous date of June 1st to allow for UP Finals and Softball/Baseball district play. Thank you!
🚨🚨REMINDER:JV SOFTBALL is self transport on Tuesday in the Sault and Friday in Rudyard.
🚨🚨JR HIGH BASEBALL AND SOFTBALL GAMES SCHEDULED FOR TODAY at PICKFORD are cancelled due to weather.
🚨🚨JV SOFTBALL TOURNAMENT IN RUDYARD TODAY IS CANCELLED DUE TO WEATHER. No make up date available at this time
BREAKING NEWS BHS SENIOR GRACE HILL has COMMITTED to Central Michigan University for Track and Field! Congratulations Grace! We are so proud of you! FIRE UP CHIPS!!! 🔥 🔥 🔥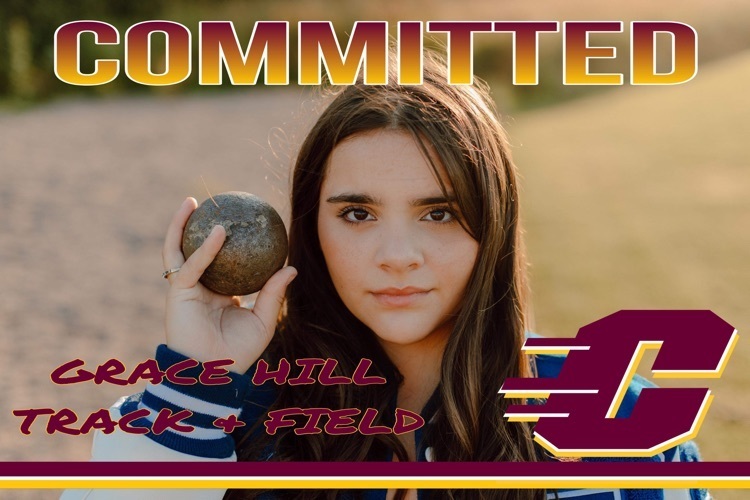 Hello Senior Parents! We have some work to do!! Please remember the Seniors vs Parents/Staff dodgeball game will take place today at 12:30pm in the Karl Parker Gymnasium. Please check into the main office to get your visitor sticker. We hope to see everyone there!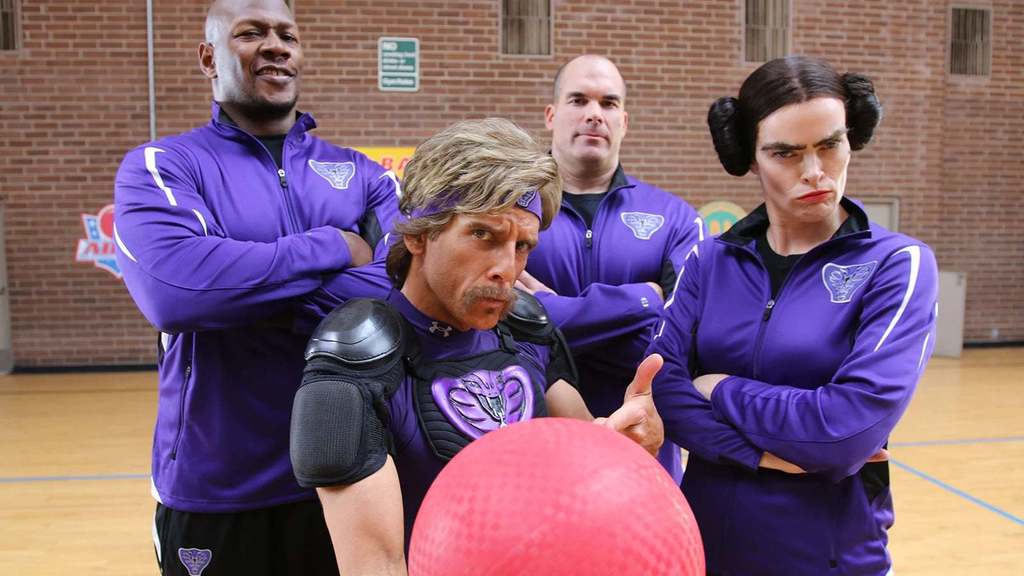 🚨🚨 BASEBALL GAME vs WESTWOOD ON SATURDAY 5/20 HAS BEEN CANCELLED. NO RESCHEDULE DATE IS AVAILABLE.🚨🚨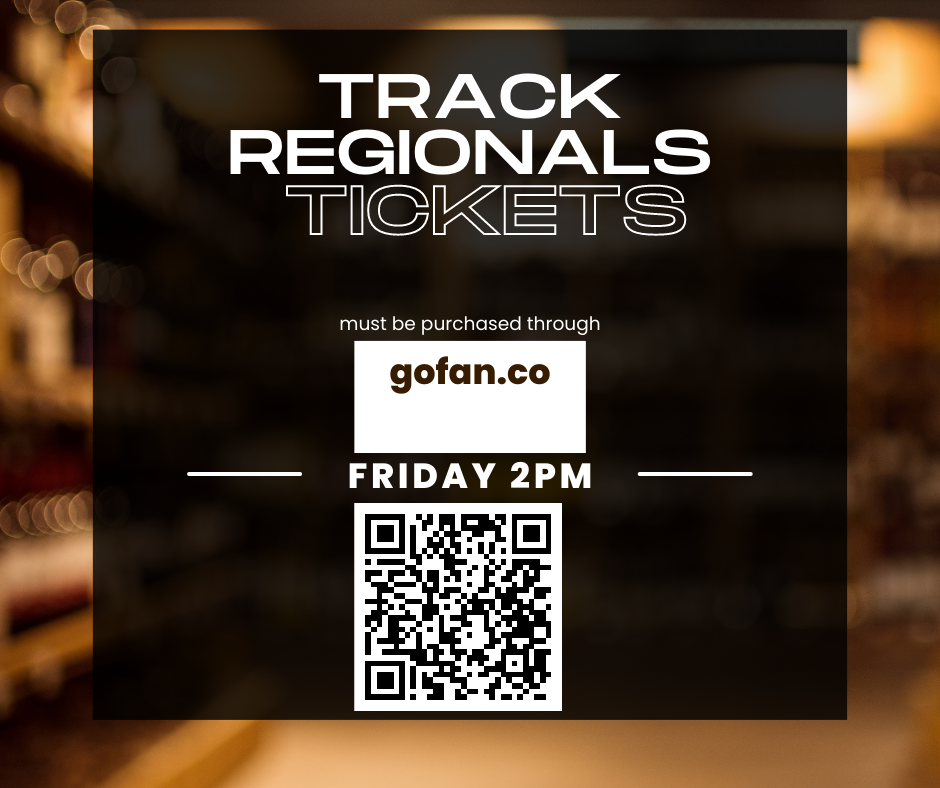 Hello Brimley Families, Please see the below post regarding Middle/High School Summer School opportunities. Student seats are limited, and we will operate on a first-come, first served basis.